If you didn't know by now, I spent nearly a year living in the beautiful Italian city of Florence. Firenze is a really special place. You can return to it over and over again and never tire get tired of it. I fell in love with everything about that place—the people, the food (obviously), the wine, the architecture, the culture, the history, and the shopping (seriously – shopping in Florence is amazing).
There are so many activities to do in Florence that make it the perfect place to visit in Italy.
The Portrait Firenze
If you're heading to Florence in the near future, I highly suggest planning to stay at the Portrait Firenze, a beautiful hotel that's part of the Lungarno Collection. The gorgeously designed property is truly one-of-a-kind and will make you feel welcome in Firenze. The hotel is located in the city center (with stunning views of the Ponte Vecchio). This makes it the perfect home base for all things culture, food, and of course, shopping.
Shopping In Firenze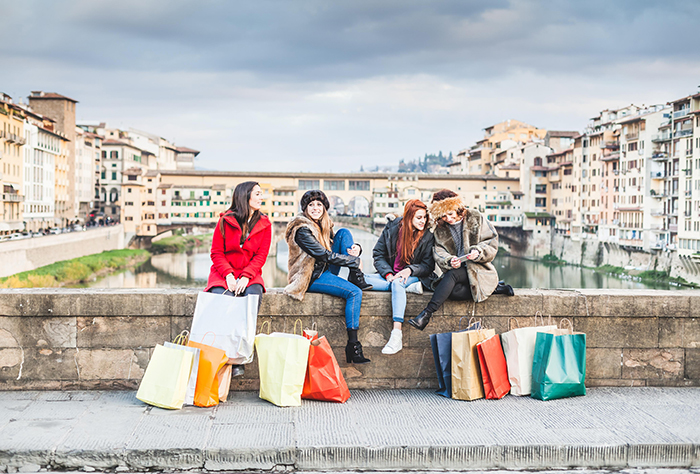 The heart of the city is filled to the brim with shops of all kinds. There are high street shops, luxury fashion brands, and handmade goods scattered around the Renaissance city. Enjoy wandering around the stunning streets, while admiring the architecture before stopping in a few shops (and enjoying a gelato break, of course).
You could pick up something from H&M next to Piazza della Republica, and then venture into Celine, by the Duomo. Finish your excursion by purchasing a piece of gorgeous jewelry from one of the many goldsmiths and craftsmen that line the Ponte Vecchio on your way back to your hotel.
Once you arrive back at the Portrait Firenze, admire your spoils with a glass of Prosecco or Chianti. It will be a truly satisfying day. And it will have you feeling as if you'll never want to leave the gorgeous Italian city.
This Post Is Sponsored By The Lungarno Collection, but as always, all opinions are my own!