If you didn't know, my family is from Malta. My Mom was born there and I even have dual citizenship between Malta and the USA. The first time I traveled there, I got off the plane and was welcomed by around 50 people –all relatives of mine. It was overwhelming and so cool to see that I had so much family that I didn't even know about. During that trip, I was able to see a lot of Malta (almost all of it). But it was December so I unfortunately didn't make it to Comino Island. This time I was not going to miss out on island hopping around Malta.
I had dreams of visiting the Blue Lagoon and Visit Malta set me up with an amazing day trip around Malta, Comino, and Gozo. It was epic and you shouldn't miss out on seeing the beauty beyond Malta.
Island Hopping Around Malta
Comino
I hopped on a speed boat with my lovely tour guide Trudy and our great captain, John, from Sun and Fun. We headed to Comino, which is a small island about thirty five minutes from Malta. Only one family lives on the island. They run a hotel that is only open during summer months. Aside from that, there really isn't much actually on the island.
Instead, people flock there for the stunning crystal clear, blue water. Our first stop on Comino was the Blue Lagoon. It was absolutely stunning.
If I had one tip to give you about the Blue Lagoon it would be to arrive early. If you get there too late, you'll be with the thousands of people who get off of the charter boats. We arrived around 11:15 AM and it was perfect timing to enjoy the water before it got completely filled with boats and people.
Our second stop in Comino was the Crystal Lagoon. It's located on the other side of the Blue Lagoon and is really only accessible by boat or a challenging hike/walk from there. This spot was a different color blue – more of a emerald, but equally (if not more) stunning than the Blue Lagoon. There are a lot less people here, so it's more enjoyable. Plus, if you're feeling extra daring, you can try your hand at cliff jumping or snorkeling through caves!
Gozo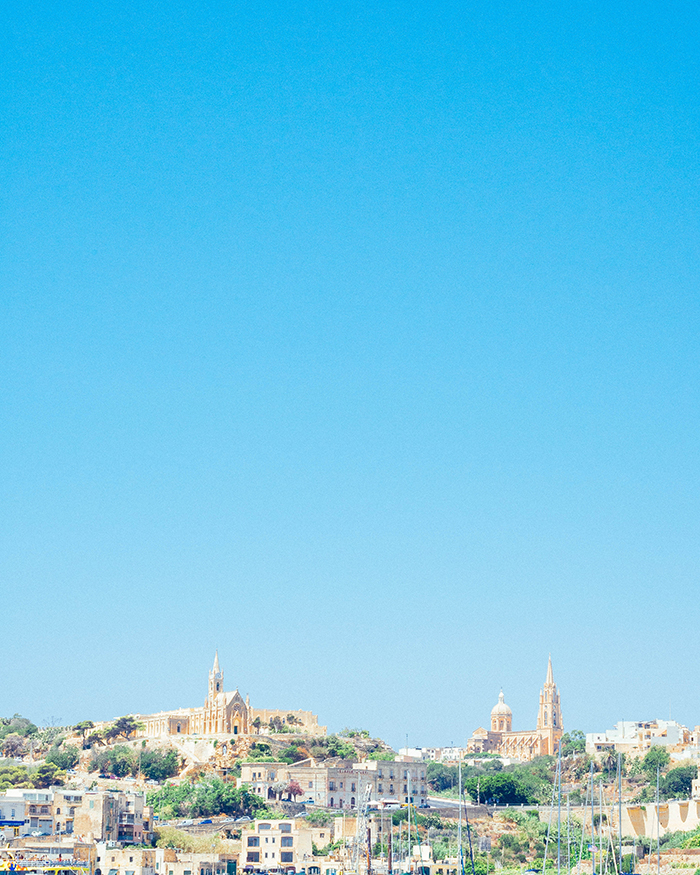 I had been to Gozo before and I loved it. I was able to explore the island the last time, but on our tour, we only had time to stop for lunch in the marina. It was short, but so so sweet. Our lunch was so good. We enjoyed calamari, mussels, sea bass, and prawn risotto at Porto Vecchio. We also indulged in some Gozian wine. Oh so satisfying…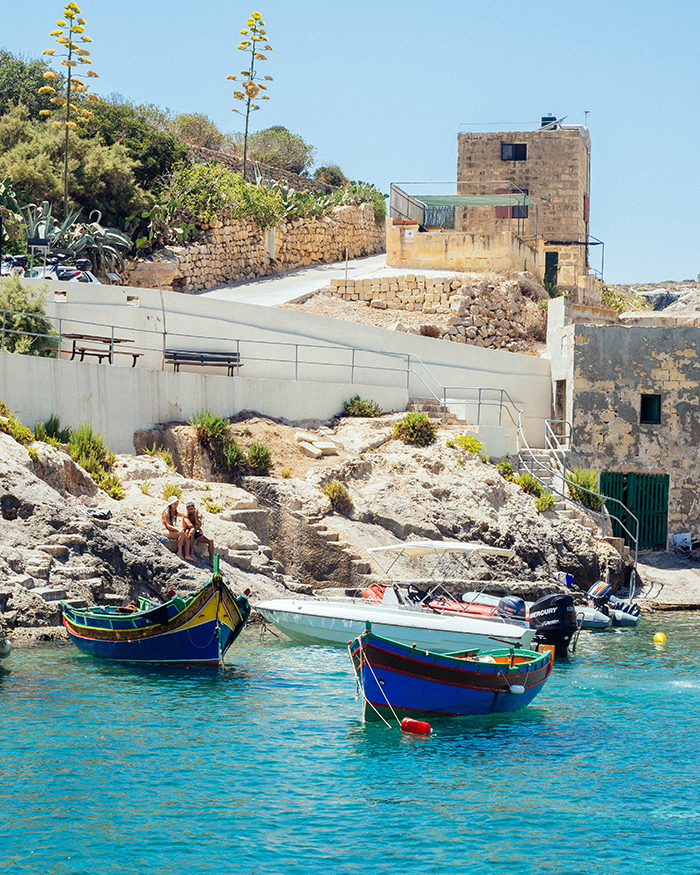 We also made a quick pit stop at the beach where the film By The Sea, with Brad Pitt and Angelina Jolie was filmed. It's the cutest little cove and definitely worth a peek. Plus, it's much less crowded than the Blue Lagoon or Crystal Lagoon.
Malta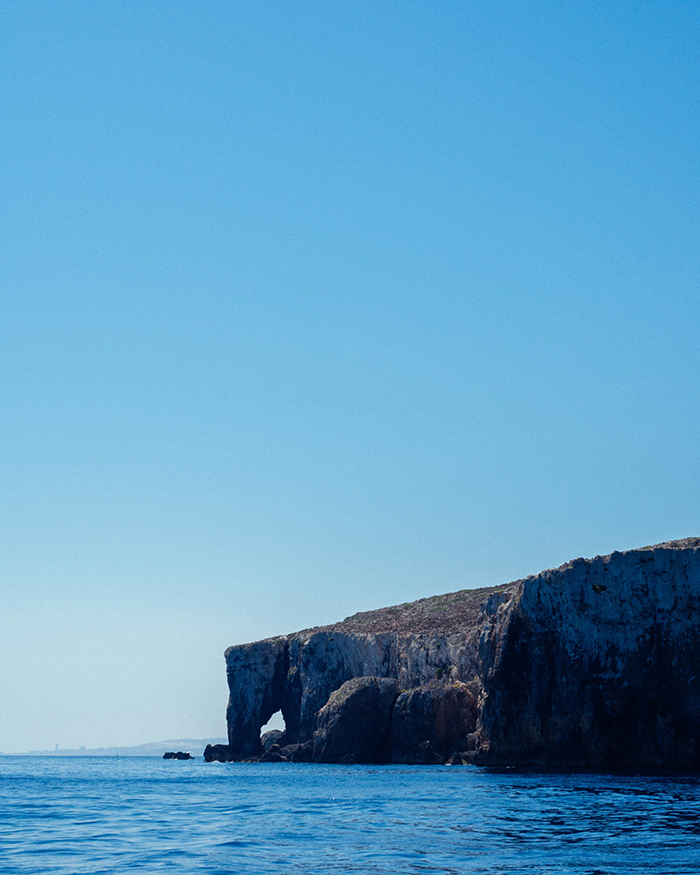 Before and after our visit to Comino Island, we explored some pretty cool caves on the coast of Malta. We saw Elephant Rock and Fisherman's Caves. We also explored Santa Maria Caves (but that's on Comino Island). If you're a diver, you should definitely go diving in the caves over there — they're all connected underwater by tunnels and apparently the visibility is unreal!
A Day On The Mediterranean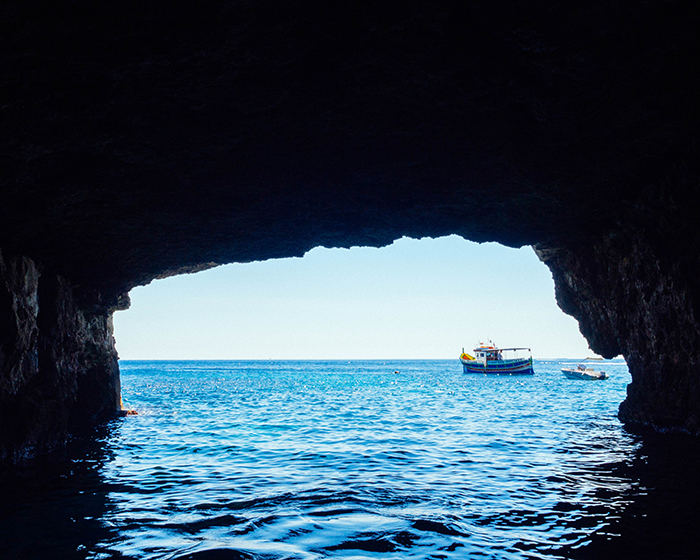 Our day was so fantastic. My mind was blown by the color of the water no matter where we stopped. Malta is a really magical country and even though it's tiny, there is so much to explore. And because it's located in the Mediterranean Sea, that extends to the water and coast. I highly recommend booking a day tour to visit all of these beautiful spots!
Travel Colorfully was a welcomed guest of the Malta Tourism Authority on this tour, but as always, all opinions are my own. 
Pin It For Later: