A lot of people ask me questions about the gear I use, what sites I like to use and more. So, I created a recommendations/FAQ page to share some of my favorite products and websites that I frequently use in my life and on my travels. This way you don't have to go rummaging through my blog to find what you're looking for!
Disclosure: some of the links in this post are affiliates which earns me a small commission at no extra cost to you. Thanks for supporting #travelcolorfully!
Recommendations/ FAQ
What Camera Gear Do You Use?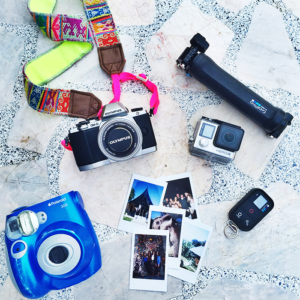 You can read more about my camera gear on my post about Travel Photography.
I love this camera. It's super lightweight and takes amazing photographs. It fits right into my purse and isn't bulky, making it the perfect travel camera.
There are two options for a standard lens for the Olympus mirrorless cameras. I chose this one because it is super compact and makes the overall camera smaller. I am however in the market for another lens – so if you have any suggestions, leave them in the comments!
I love my GoPro but I won't lie, I'm totally hoping to upgrade to the 5 before I head back out onto the road longterm. But, this camera has great features and will be a bit cheaper than the new 5. I use it to make all of my youtube videos, so definitely go check those out.
Accessories I use with my GoPro: GoPro 3-Way Pole, GoPro Smart Remote.
This is the greatest instant camera I have ever used (and trust me, I've used a lot of them…). But anyways, seriously you can use this on automatic all of the time for great, perfectly exposed photos. If you're interested in the washed out feel that old film gives you, you can switch the settings to do that too. I especially love the selfie mode and the tiny little mirror on the front of the camera so you know you're actually in the frame. Don't forget to buy some film too!
What Sites Do You Use To Book Travel?

I love booking.com – they have a ton of great hotels listed onto their site and they often have the best prices. I always book using booking.com unless I'm in Asia…
When I'm in Asia I use agoda.com. They seem to have the largest database of properties around Asia and they do have great prices too.
I love AirBnB when I'm staying somewhere for a long time. Then I can cook myself meals and assimilate a bit more into the place that I'm visiting. Get a $27 dollar travel credit when you sign up and take your first trip! 
Do You Use Any Tools When You're Actually Traveling?
 World Nomads Travel Insurance
Always buy the travel insurance. Sure, it may cost you extra money that you didn't want to spend before going on your trip, but it will help you save a ton if your flight gets cancelled, if you have to cancel your trip, if you injure yourself, if you have to see a doctor and your primary medical insurance doesn't cover it (I had to get my wisdom tooth pulled in Thailand and I threw my back out in Vietnam and my money was reimbursed) and more. I use it because as a digital nomad I like to know my belongings are safe!
I LOVE Uber. You have to be careful in some countries when using it (like Indonesia, where it's technically banned/frowned upon) and some airports don't let you get picked up from the arrivals area. But, if you're traveling in Asia, you can ride a pretty far distance for only a few dollars. I used it all around Vietnam because I had hurt my back and I barely spent any money (I think I used it like 20 times and spent maybe 30 dollars). Use code taylorf495 to get your first ride free!
Where Do You Like To Shop?

This is my favorite site to pick up travel gear. I got my backpack from here, I got all of my amazing space saver bags. And they continue to me first stop when I need any essentials.
Seriously. The best travel sized makeup. EVER. Read all about it here.
I buy most of my clothes from ASOS. I always shop from their sale page and I always find amazing clothes and accessories over here. (They also have the best choker selection 🙂
This is where I buy all my random things that I can't find anywhere else. They have probably anything and everything you could dream of buying.
What Are Tools You Use For Your Blog?
I send a lot of emails. Like a lot. And it was always frustrating to me if I didn't get a response. I was always wondering if people are actually reading my emails or not. Newton lets me see when someone reads my email and how many times. They also have a great feature that lets me draft an email and set it up to send out at a specific time. This tool is great because I write a lot of emails late night, and don't like to send them until normal office hours.
I love bluehost so much. I made the switch to WordPress.org back in June and it has been an amazing transition. The people over at bluehost are so helpful and always available if you have any questions. They helped me get everything set up and walked me through transferring my files over from blogger.com.
Making Sense of Affiliate Marketing Course
This course was so helpful for me. Sign up for it and learn how Michelle went from earning $0 to $50,000 a month in affiliate marketing. I took the course and have already made some sales, and I had never made any beforehand. Definitely check it out!
Pin It For Later: