I'm always looking for interesting, quirky hotels. And when I laid my eyes on Qbic London City, I knew that I needed to stay there. The Qbic London City became my homebase in London for three nights. It's located in East London, which is my favorite area. It's also right across the street from the Aldgate East Tube Stop, which makes it easy to get to other places around London!
The imaginative hotel is a fun place to lay your head down in London. It has a bit more personality than some of the other places I have stayed in the city. It's built by creatives, for creatives. And it doesn't hurt that it isn't super expensive to stay there (book directly with them to get the best possible rate)!
Qbic London City
The great thing about this hotel is that while it is unique, it's also really comfortable. Often times, when hotels are trying to push the envelope on design, they sacrafice comfort. That is not the case here!
Aside from one of the most comfortable beds I have ever slept in, the Qbic also has a great little common area in the lobby. Plus, the staff is super helpful and really friendly. I needed to print something out and they helped me (and printed a lot of copies for me which was amazing).
Amenities: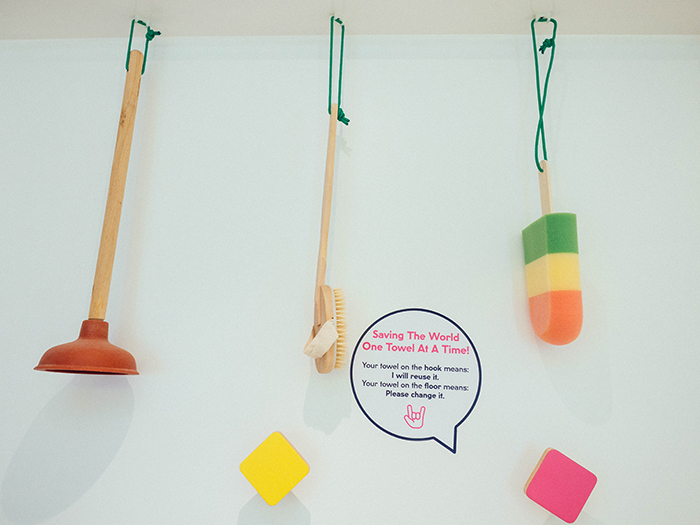 Each room comes with free and fast wifi, a rain shower, a TV, free tea and coffee, and refillable water. The hotel prides itself on being green, so you can also use one of the free bicycles to get around London.
The Restaurant
The food is delicious as well! I enjoyed some avocado toast and a side of french fries for brunch one morning and it left me satisfied!
 Travel Colorfully was a welcomed guest of Qbic London City for one night. I received a media rate for the additional two nights. As always, all opinions are my own!
Pin It For Later: