I'm always super excited when I stumble across a hotel that is beautifully designed. I found El Otro Lado on a fellow blogger's Instagram page and fell in love. The boutique hotel appeared to be so colorful. Because of this, I knew I had to stay there during my stay to Panama back in January.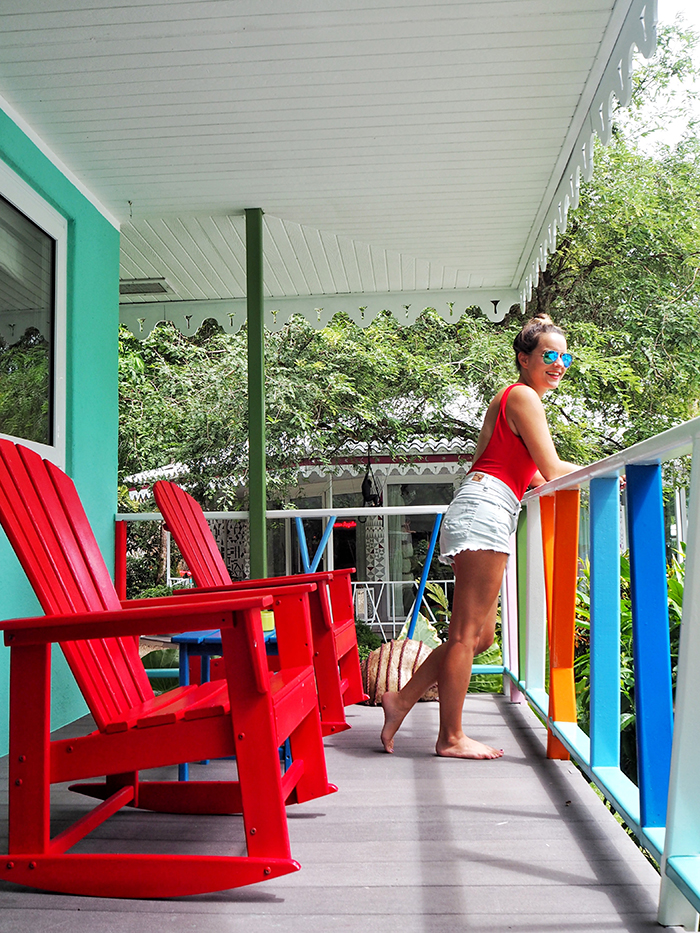 El Otro Lado is located about an hour and a half drive away from Panama City. You can organized transportation with the hotel, or you can rent a car and drive there yourself. The drive is a bit windy, but soon enough you'll end up on the Caribbean coast in the tiny town of Portobelo, Panama. From there, you'll hop on a boat and take it across the bay to El Otro Lado.
I stayed at the private retreat for two nights, which was a perfect amount of time to regroup after three weeks of travel.
Checking Into El Otro Lado
When you arrive, you'll be greeted with a delicious welcome beverage and walked to your room. El Otro Lado is a luxury boutique property and has five room options. Each room is actually a house or a small villa, with the exception of one, which is a larger house for bigger groups.
I stayed in the Forest House, and let me tell you, it literally took my breath away when I walked inside. Each room has a different theme and is decorated accordingly. My room was painted in a beautiful green and featured a sitting area, desk, huge bed, and gorgeous bathroom (with an amazing waterfall shower). Plus, I also had a front porch and a side deck.
The Forest House, Sun House, and Sea House are all equipped for two people to stay there. The Spirit House is larger and can accommodate up to four people as it has two bedrooms (and a kitchen). Casa Grande is made up of three rooms, so you can rent them individually or all together if you have a larger group.
What Can You Do At El Otro Lado?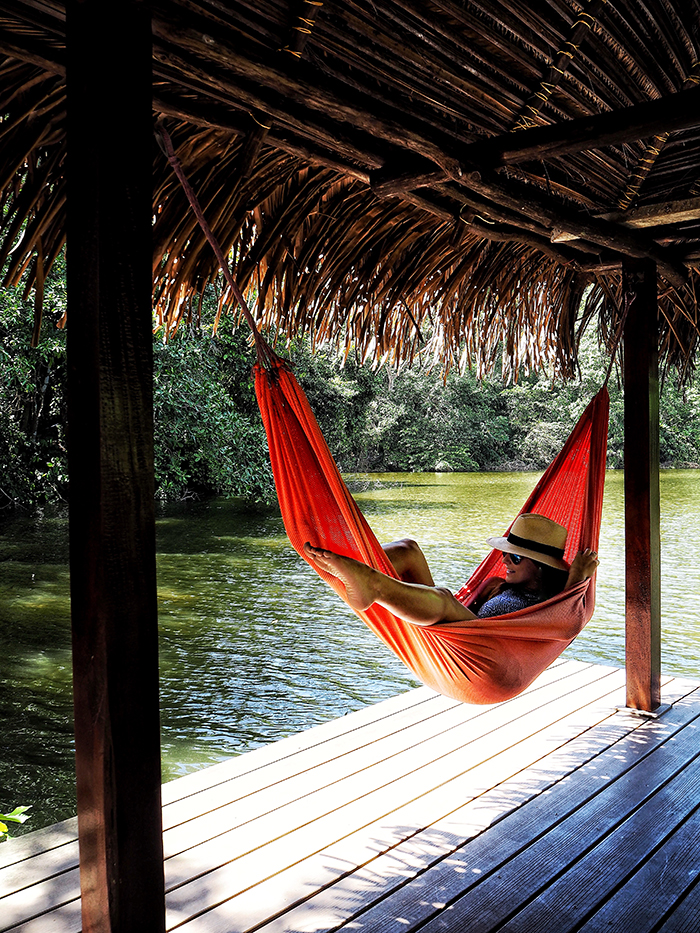 The hotel has several different excursions that you can take part in, like trips to the beach, or to the village. I chose to relax by the pool and wander around the property. There's a great little reservoir at the top of the hill and it has some hammocks. It was a really chill place to sit and read a book.
Eating And Drinking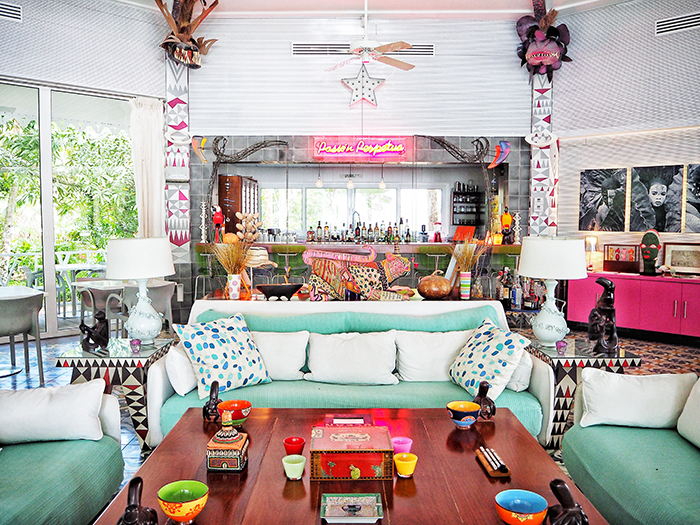 Breakfast is included in your rate, while lunch and dinner are priced at around $38-$48 USD (respectively). While sitting, you'll dine on a three course meal. The food is super delicious, but I found that eating my breakfast and a dinner was sufficient enough for me. Each day the menu changes, so make sure to pop into the beautiful Gazebo to find out what it is for that day. There is an extensive wine and cocktail list and you can enjoy drinks by the pool or at the bar inside.
All Of The Colors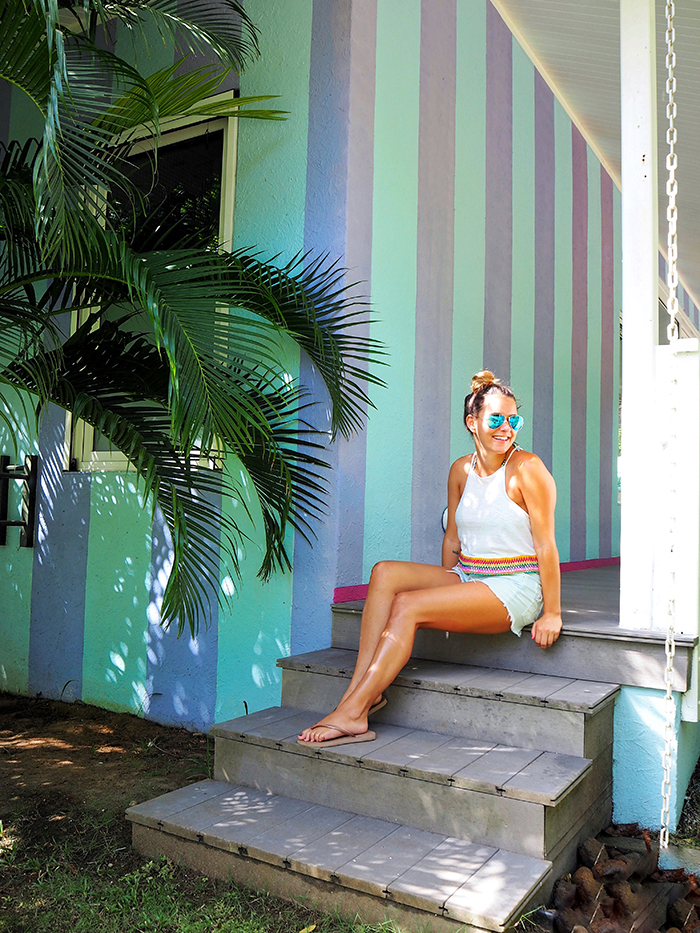 Perhaps my favorite part of my stay at El Otro Lado was admiring the amazing decor. Like seriously. I'd like to decorate my home like that. The Design Hotel is unique, modern, and colorful. It features art by local artists and each room is decorated differently.
My favorite place on the whole property was probably the Gazebo. This is where you take your meals or you can enjoy a cocktail. The vibrant colors light up the space and the floor to ceiling windows really make the room. The walls are lined with original photographs featuring the local people. And the tables are filled with beautiful sculptures and knick-knacks.
I was welcomed as a guest of El Otro Lado Panama, but as always all opinions are my own! 
Rooms start at $525.
Pin It For Later: