If you're looking for a comfortable hotel in an awesome location in Berlin, look no further than Hotel Oderberger. The historic Berlin hotel is located in Prenzlauer Platz, an area filled with great shops and restaurants. The neighborhood has a great little vibe to it–almost homey. It's definitely not a touristy area which makes it even better. Hotel Oderberger Berlin is a breathe of fresh air in terms of hotels because of its location.
I don't know about you, but I don't love to stay in super touristy areas. I prefer to check out local spots. There's more authenticity there. I believe it's the way you really learn about a city. Hotel Oderberger was the perfect place for me to experience that.
#Checking In: Hotel Oderberger Berlin
I checked into Hotel Oderberger Berlin for two nights after a very long evening. My flight from Croatia had arrived late and the airport was swamped. I didn't actually check into the hotel until after 1 AM… but good news, there is someone at the reception 24 hours a day, so it wasn't an issue.
Happiness came over me when I opened the door to my room and saw a desk, bathrobe, waterfall shower head, and a big bed. I wasn't happy to see that there was no air-conditioning but after calling down to the front desk, I was told that the building was historic and therefore didn't have it. I was tired and cranky but found a fan in my closet and it was totally fine. The room was big enough and airy enough that it made no difference. The windows also opened allowing for some fresh air.

The History
The Oderberger actually used to be a bathhouse. In the late 90s it was closed down but people petitioned to keep it open. Since then, it has been remodeled as a hotel and apartments. The bath area is still used for events and there is also an indoor swimming pool.
The Rooms
There are 70 rooms, two apartments, and ten seminar rooms in the hotel. The rooms are spacious and include amenities like wifi, refrigerators, organic soaps, a coffee/tea maker, and more. They are very spacious and very comfortable. My room made a great office for myself as it rained a lot during my stay. I really utilized the fast wifi and desk to get some work done!
Dining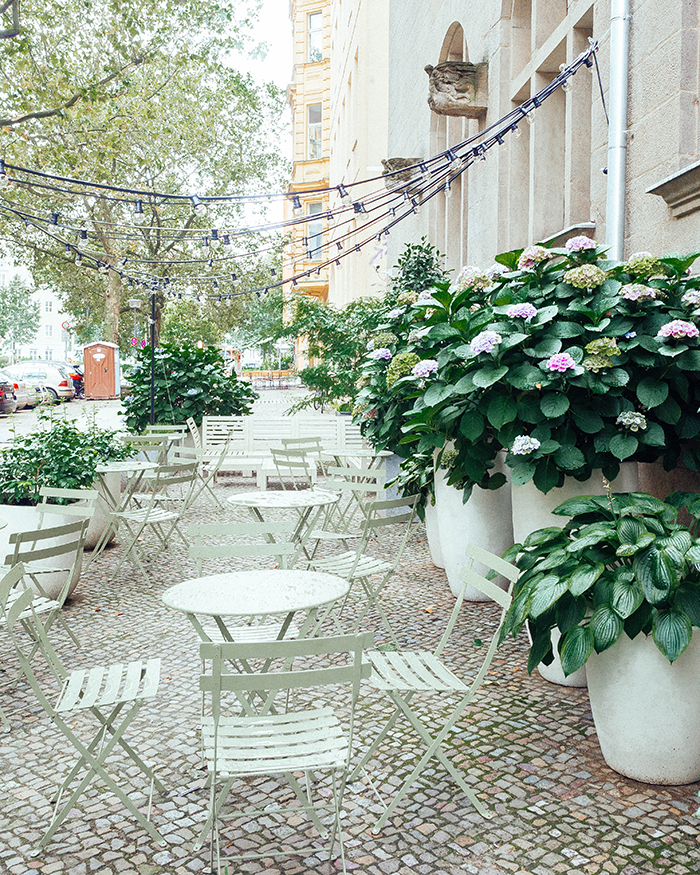 If you're interested in dining at Hotel Oderberger Berlin, you can enjoy a delicious meal at Oderberger Restaurant. There is a breakfast buffet available each day from 7-10:30 AM and even a fireside bar where you can grab a delicious cocktail.
Pin It For Later: