Yes, you can legally visit Cuba as an American now. In 2016 President Obama opened up travel to Cuba again. You can travel to Cuba from America, get a stamp in your passport, and explore the country without a tour group. If you're interested in visiting Cuba, then there are some things you should know before you start planning your trip.
Visit Cuba As An American
Here are the different categories that will help you understand how to travel to Cuba as an American. I came up with these topics based off of the questions that people have been emailing me and DMing me! And if you have any other questions, please leave them in the comments as I'd love to help out if I can.
How To Get Your Visa
You can in fact travel to Cuba legally as an American now. You have to fall under one of 12 categories:
Family visits;
Official business of the U.S. government, foreign governments, and certain intergovernmental organizations;
Journalistic activity;
Professional research and professional meetings;
Educational activities;
Religious activities;
Public performances, clinics, workshops, athletic and other competitions, and exhibitions;
Support for the Cuban people;
Humanitarian projects;
Activities of private foundations or research or educational institutes;
Exportation, importation, or transmission of information or informational materials; and
Certain authorized export transactions.
I traveled to Cuba on a people to people visit. I did have a self-guided itinerary provided by Conscious Cuba, but you can easily make one yourself.
A lot of people have been telling me that they're nervous to travel to Cuba because they'll be questioned by immigration. That's simply not the case. I wasn't asked any questions, I wasn't asked to provide a copy of my itinerary, I just had them in case. I've spoken to many other people who have traveled there from America and they've all said that it went smoothly as well.
Your airline will provide you with a tourist card (don't lose it or else you'll have to buy a new one to leave Cuba). I flew with JetBlue and they sold it to me while I was checking in at the airport. It cost $50USD.
How To Get To Cuba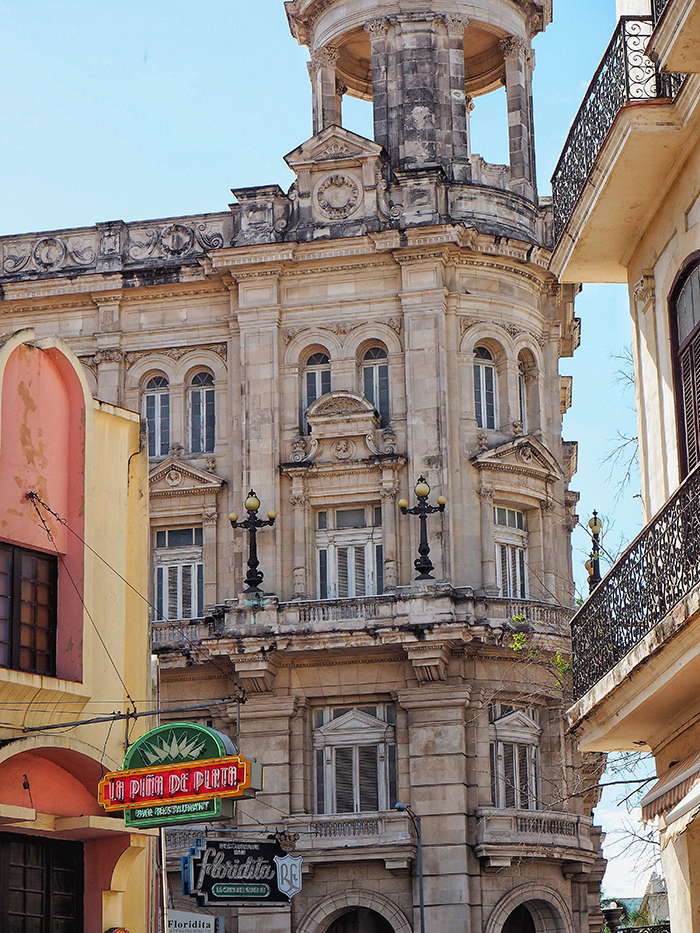 Many major airlines now offer flights to Cuba. I flew JetBlue from Fort Lauderdale to Santa Clara. We decided to fly to Santa Clara because we would be visiting Trinidad first and it made more sense than talking two very long taxi rides. You can fly into Camaguey, Holgquin, Santa Clara and Havana with JetBlue. We flew back from Havana.
There are several other airlines that will fly to other locations within Cuba if the place you're interested in flying into isn't listed above.
Now I was told by many people to arrive to the airport in Havana at least five hours before my flight. That simply wasn't necessary. I'm not sure if it was just because JetBlue is efficient, but I didn't really see super long lines at any of the check in counters. Of course, always arrive at least three hours before your international flight.
Transportation Within Cuba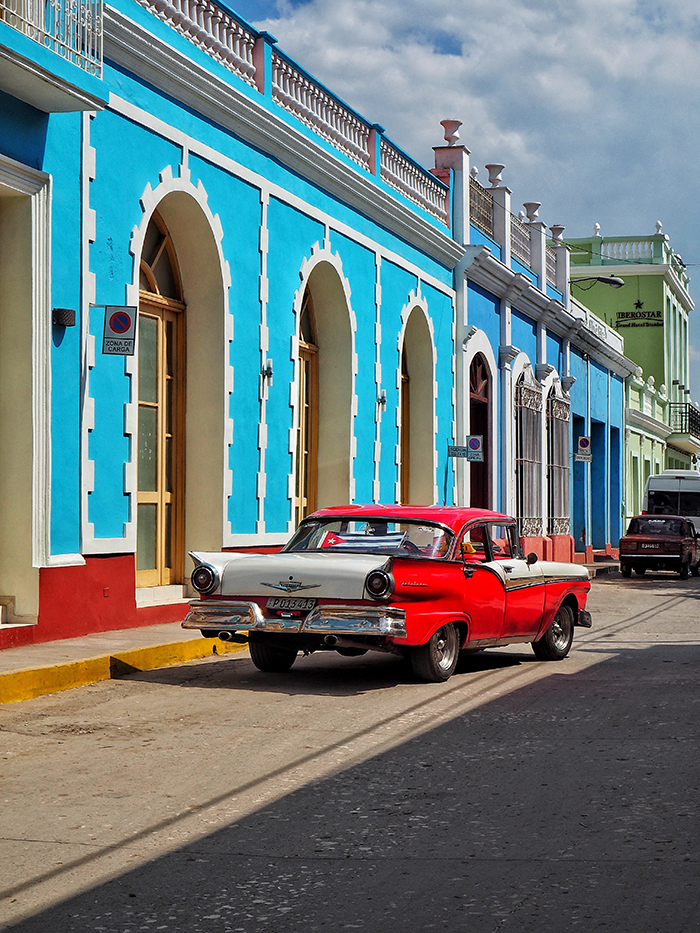 If you're traveling between cities, you'll want to take a collectivo. It's a shared taxi. They cost about the same as a bus ticket but take less time. You can have the owner of your Casa Particular set up a collectivo for you. If you aren't able to do that, then check in with Info Tours. They helped us organize a taxi and it was super helpful. The collectivo will pick you up from your casa and drop you off at your new one in the city you're traveling to. (Trinidad –> Havana $25-$30 USD)
Usually if you organize one with your casa owner, you'll be in an older car with four-nine people. Your bags will be placed on the top of the car so I suggest bringing a waterproof cover if you can. It rained the entire way from Trinidad to Havana and my bag was soaked for several days.
If you book with Info Tour, it will usually be a van.
Throughout the cities, taxis will be a bit more expensive!
Where To Stay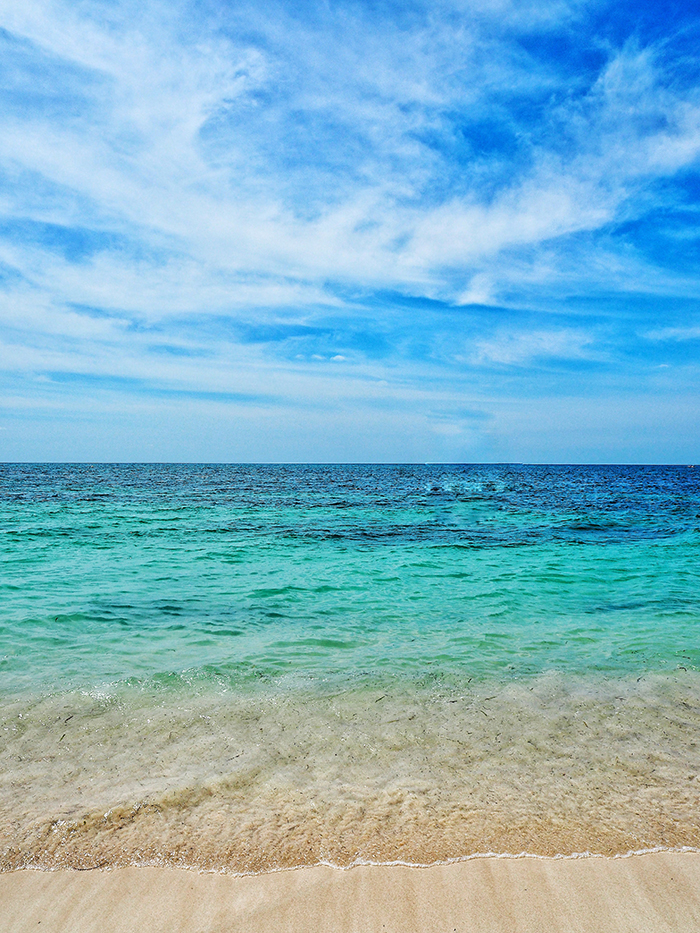 Hotels are very, very expensive in Cuba. Instead, opt for a Casa Particulares. It means private homestay. They're usually operated by a family in their residence. There are several ways to book them, but the easiest is probably on AirBnB. You can find ones at all different price ranges depending on what you're looking for.
If you aren't willing to spend a bit of money, don't expect to be staying in a super nice place (especially in Havana). We were able to get our casa in Trinidad for $25 USD a night and it was actually really nice. Our casa in Havana was $60 USD a night and not as nice as the other one, but we were centrally located which allowed us to save money on taxis.
Understanding The Currency
If you're an American, make sure you bring enough money with you for your entire trip. You will not be able to use an ATM or your credit card. I suggest exchanging your money for Euros before you leave America as the exchange is better than dollars.
There are two currencies in Cuba. The CUC ( Convertible Peso) and the CUP (Cuban Peso). The CUC is the tourist currency while the CUP is the local currency. Make sure you are aware of what the place you're spending money at is asking for! 1 CUC is equivalent to about 24 CUP. I've heard about so many people getting screwed over because they pay in CUC when the price is listed in CUP. That can make Cuba seem very expensive.
1 CUC = 1 USD
WiFi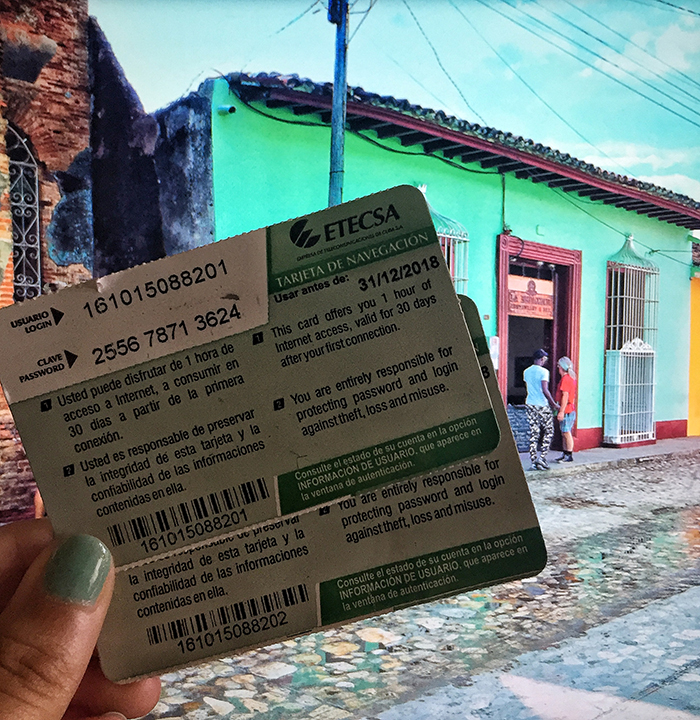 We were really lucky, we bought all our WiFi cards on one day so we were set for our trip. There will be an ETECSA store in each city (you'll be able to find it from the long line that is always outside of it). WiFi cards cost $1.50 CUC when you buy them from the store. But if you don't want to wait in line, you can usually find someone selling them where the hotspots are or outside the store. They usually sell them one for $3 CUC or two for $5 CUC.
If you can, try to buy as many cards as possible. The day that we went in Trinidad, the line wasn't very long so we just kept getting back on to buy more. Remember, there will probably be a glitch in the system at some point in the ETECSA store, or maybe they'll run out of cards for the day. Don't get frustrated. It happens.
There are several hotspot locations around the cities in Cuba. AIt's usually a park or a hotel. Ask a taxi driver or restaurant owner, they'll be able to direct you to the place (they also are hard to miss because they're usually packed by people staring at their phones or even on their laptops).
Pin It For Later: